Model Author
"Well, This is Growing Up" with WINK Model and author, Megan Street
It's official, WINK has THE most talented bunch of models all over Australia! We are so pleased to share this wonderful book from author and WINK Model, Megan Street.
Megan's newly published book, "Well, This is Growing Up" takes us through her experiences growing up with the aim to show all teenage girls that what they are going through is completely normal and that they are not alone!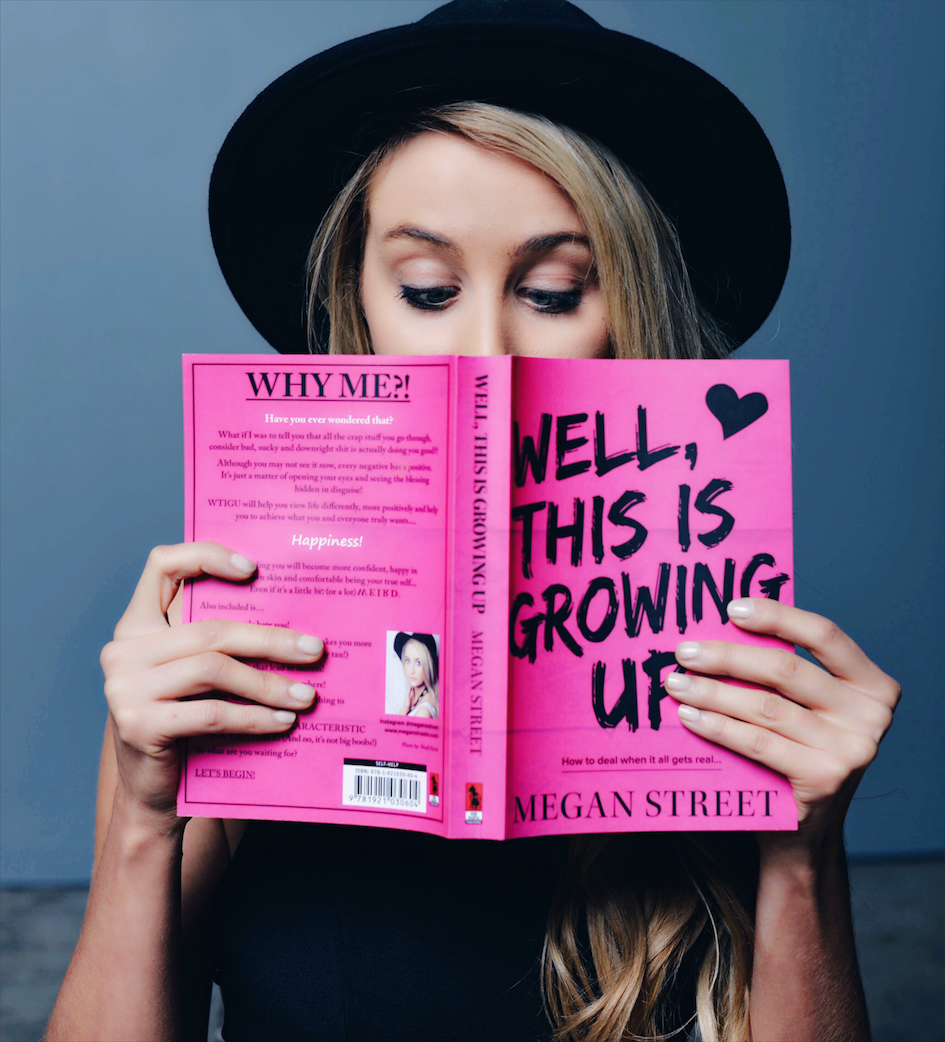 "WHY ME?! Have you ever wondered that?

What if I was to tell you that all of the crap stuff you go through, is actually doing you good?! Sometimes it is just a matter of opening your eyes and seeing the blessing hidden in disguise! As 50 Cent says 'Let's turn shit into sugar!'

After tragically losing a friend to suicide I felt that I needed to do something to help young women get through growing up in this day and age – this is what lead me to write Well, This is Growing Up. A self-help book written by a young woman (24 exactly!) for young women.

Well, This is Growing Up will help you view life differently, more positively and help you to have what everyone truly wants… HAPPINESS! By reading you will be more confident, happy in your own skin and comfortable being your true self… Even if it's a little bit (or a lot) W E I R D! I also don't shy away from 'real' topics even if they may not be 'G' rated ;). 10% of all profits go to Australian mental health organisation beyondblue.

Are you ready to be a bursting ball of happiness ?! Well, what are you waiting for? Let's begin! :)"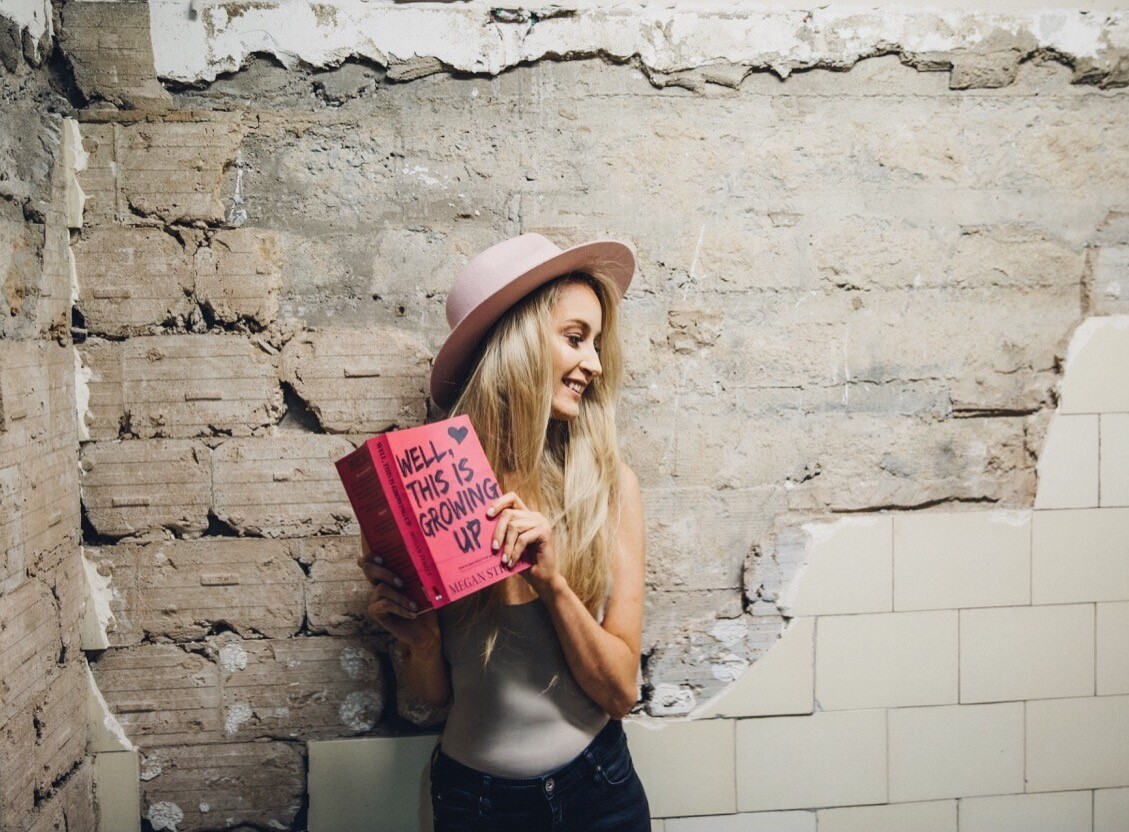 First of all, take us through the process of even starting to THINK about writing a book like you have! What are the steps to writing it and ultimately getting it published?
Honestly, I'd never planned to write a book! Naturally I'm not one to sit still very easily (totally love whoever invented the fidget spinner) so a book never really crossed my mind! What led me to writing was when I tragically lost a friend to suicide. I have always been quite optimistic and love helping other people…I thought surely there is something I can do to help anyone/many struggling out there with depression and/or thoughts of suicide. This is the reason I am donating 10% of profits to beyondblue.
In terms of writing and getting published, I have always thought that if someone else can do something (in this case write a book), why can't I? I literally wrote a few chapters, called a few publishers, sent my work to them and was incredibly lucky to score a book deal!
What has been the overall feedback from 'Well, This Is Growing Up'? You mention at the beginning that you dedicated it to anyone who has struggled with depression or has lost someone close to suicide, has it (so far) reached the type of audience you wanted it to?
It has been so amazing so far! A big thank you goes to everyone who has been has been super supportive! I couldn't be happier with how well received it has been.
By far the most rewarding part of having the book out is when I hear about how it has impacted other people's lives – I've had people already come to me and tell me about how WTIGU has made them so much happier and has 'turned their life around' – it is so amazing that WTIGU can have that sort of impact on someone's life. So yes, it is reaching the type of audience I wanted it to.
My favourite chapter would have to be the 'Boys/Heartbreak' section. I think A LOT of girls can relate to your experiences! How do you feel now that all of your stories have been shared out in the open?
That chapter was really fun to write! I didn't want to hold back because I think it is important to talk about our true thoughts and feelings. It is a little terrifying to have some stories out in the open but surprisingly I did keep a lot of secrets – I could have put a lot more in, but wanted to stick to content that would be most helpful to others, funny and relatable.
You obviously have changed the names of the people you talk about in your book, have you had them contact you about it?
A question I get asked a lot is 'is there a story on me?' to which I have to say I can't tell them. I said at the start that I wasn't going to share who the stories are about unless the person/people pick that they are about them – if they guess correctly then I am happy to tell them. Quite a few have successfully guessed so far!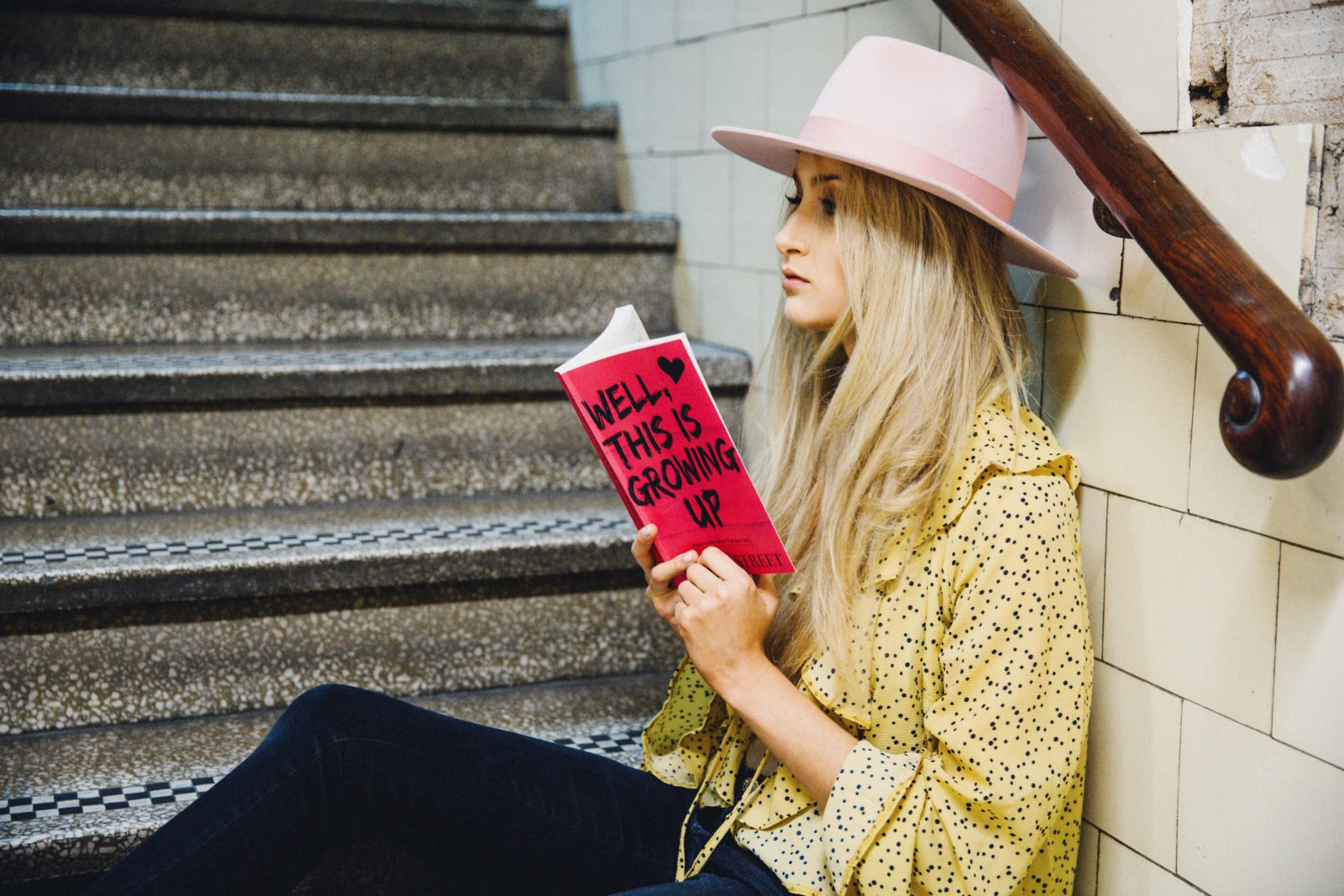 What is your favourite section of the book? Is there any part that you are super proud of?
'Failing' is one of my fave chapters because I think it reveals the truth behind what most people call 'success'. Even in modelling we don't get every job we go to castings for! In my opinion true strength doesn't come from succeeding and going well at everything… It comes from pushing through, and not giving up when things don't seem to be working out. A quote I love by Thomas Edison is 'I haven't failed, I found 1000 ways that did not work'.
And I also think the 'But I'm Still a Virgin' chapter send out a great message and was something I was shy about when growing up so I'm very happy to have the guts to share this chapter!
What was the lightbulb moment for you where you realised how much you've learnt since leaving high school in terms of love, friends and even parents. How did your mindset change?
It's sort of been a long process of self-reflection although one moment does stand out to me…
I was 17 and did everything I could to get an interview to become school captain. I never received one which at the time felt like the world was ending. in WTIGU I call myself a 'walking waterfall' I was crying so much! But, it was then that I realised some things we can't control and this was one of them – the only thing I could control was my thoughts about the situation. I could choose to mope around devastated or use my emotions to motivate myself to succeed at something else. After some moping I chose the latter.
Happy people don't have the best of everything they make the best of everything – Zig Ziglar.
What has been the best review you've received for the book so far?
I love every review I get and am super thankful for the time people have spent giving reviews for WTIGU! One of the reviews I was most excited about was from AFL player Daniel Menzel who has gone through his own mental as well as physical challenges – defs check out his doco 'A Long Way Home' and brand Mental Toughness Mental Fortitude (MTMF).
Not only do I hugely admire his perseverance and resilience, but it's also so great to hear that people who are outside the intended audience (13-27yo women) have enjoyed reading Well, This is Growing Up'.
What's next for you, do you think there will be another book?
A TED talk is the dream!  But as for what's next, I have actually put a bunch of clues in the book that may or may not suggest my next big idea!
We have to ask, have you found a keeper yet??
Hehe, I share a lot in the book although I must keep some secrets 😉
You can purchase your own copy of "Well, This Is Growing Up" here to not only support Megan and her awesome initiative, but to also support beyondblue! You can also follow Megan and her upcoming venture on her Instagram; @meganxstreet.
---