What is the most-liked Instagram post in the world? We're glad you asked! Because as of January, it officially became a single speckled egg with a white background named "Eugene". Topping more than 50 million of those precious hearts, this (admittedly very good-looking) egg became the post that was seen around the world when it beat out the previous record-holder (Kylie Jenner) by a landslide. The mysterious account holder behind the viral @world_record_egg claims to be a hen from the English countryside who has one simple, straightforward call to action:
"Let's set a world record together and get the most liked post on Instagram. Beating the current world record held by Kylie Jenner (18 million)! We got this."
Paired with 3 solidarity hashtags (#LikeTheEgg, #EggSoldiers and #EggGang) this social media phenomenon did what many brands spend millions a year attempting, often with little to no result. It rallied a worldwide audience to take action and engage. But how did the egg achieve such reach and notoriety in such a short time? It isn't a celebrity, it isn't offering or selling anything… it's truly just an egg.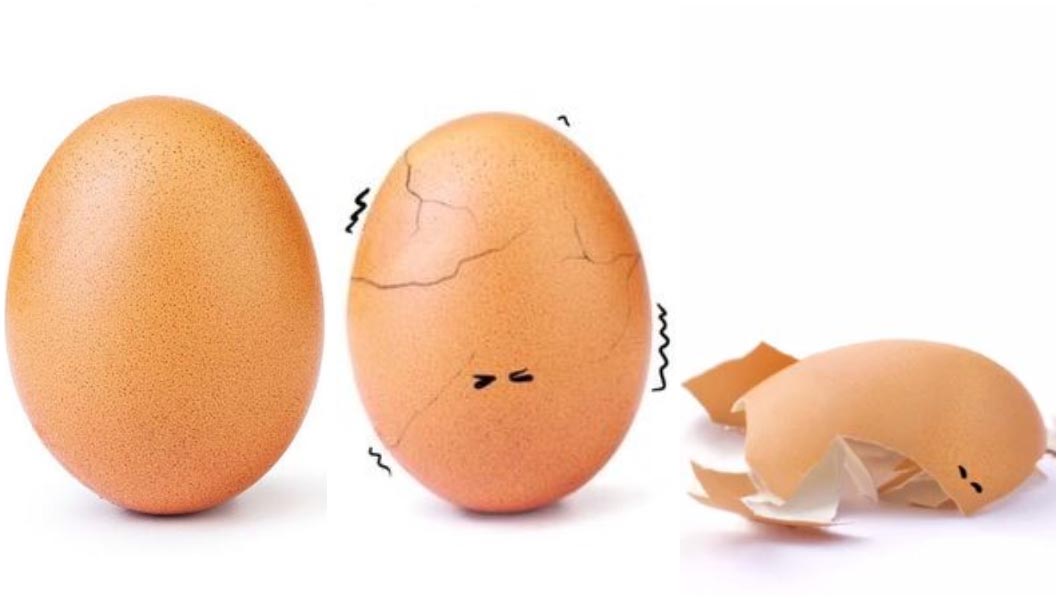 The Great Egg-Jenner Scramble
For a long time, Eugene's purpose was not only confusing, but seemed to be without purpose other than to become "Insta-famous". That is, until we saw it physcially "crack under pressure" from all the media attention. What we found to be an awesome result of the egg, was watching it go from another pointless viral piece of content, to a vital lesson of how social media can cause some of us some serious mental health concerns. We thought it was such a great way to raise awareness of the growing concern of how social media can cause quite a lot of pressure on some of us. 
It's not always clear from the beginning why a piece of content goes viral and captures the attention (and hearts) of the masses. The internet truly does allow users to rally together and highlight a particular cause, without necessarily relying on major media organisations or global celebrities to do so. This has put a lot of power in the hands of "user-generated content" and micro-influencers. However, that being said, we've also seen that people do sometimes choose to wield this digital power purely for a laugh.
While the egg certainly leveraged a wide network of influencers, media contacts and internet marketers as various accounts noticed its rising traction, it's incredible impact was already well underway. By the time the likes of Buzzfeed promoted the post – the global scramble to like the post was already growing at an unprecedented rate.
What Can Brands Learn From Eugene?
Look, let's not beat around the bush. Just like many of the internet meme sensations that get global traction, Eugene represented a little bit of an anti-celebrity revolt. "Look what we can do with a simple egg." This is a compelling point. Anything symbolizing anti-celebrity culture or anti-consumerism can get viral fast. Ok, but how does that help brands trying to drive consumerism?
The lesson to take away here isn't to hide your motive, but to find simple, honest ways to make your brand symbolise something bigger – something your audience can truly care about. This is why working with relevant micro influencers and the right brand ambassadors can make all the difference to the reach of a brand's campaign. These personalities already have an authentic relationship with their followers, who also trust their endorsement and care enough to engage!
---
Have some questions? Feel free to get in touch! 
You can count on our talent managers to respond quickly to your enquiries and putting forward suitable candidates for your specific brief.
Our agency is made up of 6 divisions; Male, Female, Sports, Classics, Youth, Promotional & Influencers. We have specialised bookers within these divisions to ensure appropriate management of each individual.
Call us on 02 8005 4388 or email [email protected] 
---